When you wish upon a Mario star, makes no difference which Toad you are...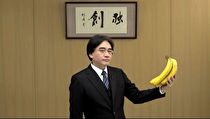 Has anyone ever told you that anything is possible? I thought that until I realized we still have not gotten a Zelda movie or a Kirby theme park. We can still wish, though. Wishes give us hope for better days, or in my case, better games. In other words, I have been thinking about the things I wish will happen in the world of Nintendo in 2013.
Continued Wii U Third Party Support:
As upset as I am that Metal Gear Rising: Revengeance is not coming to Wii U, I understand that the game has most likely been in development for a while (and that Platinum games is already supporting the Wii U with two other games). That being said, I am wishing for third party support to remain abundant on Wii U. Last year, we were treated to ports of great games like Mass Effect 3, as well as new releases that were awesome like Assassin's Creed III. Games like Rayman Legends give me hope that this positive trend will only continue.
An Exciting E3:
While some may argue this statement, I found Nintendo's E3 2012 press conference to be quite disappointing. While I did not hate it, it lacked the surprises or jaw dropping moments we have come to expect. Whether it be Iwata taking a Wii out of his jacket pocket, or holding a 3DS in the air and saying 3DS in somewhat broken English, E3 is always exciting.
A Spotlight on Other Nintendo Franchises:
I love Mario, but I would like to see some other franchises get big releases. There were five Mario games last year, along with two other games with Mario appearances. I would like to see a new Star Fox, or even an Ice Climbers Championship Edition. Or, people who know me in the digital realm know how much I want Steel Diver 2: Still Diving.
All Gamers Give Nintendo a Chance:
While gaining many "casual gamers" (I hate using these labels), the Wii and DS era lost many "Core gamers" that I would like to see give Nintendo a chance. Nintendo systems are hosting many core-centric games like Monster Hunter 3 Ultimate, and Castlevania: Lords of Shadow – Mirror of Fate. As much as I like excluding people from my hobbies, it is much better when more people join in on the fun. I mean, when it comes to people not giving Nintendo a chance, I can only think of the wise words of Reyn from Xenoblade Chronicles: "Whatta bunch of Jokers!"
By the end of 2013 Nintendo will have new challenges to face, but with a little wishing they will be okay. Alright that is the cheesiest thing I have ever wrote. Yuck.