If Miiverse is stable, functional on more than Wii U, and compatible with every game, it'll be awesome.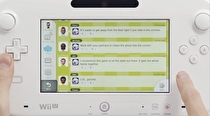 On the day the Wii U launched in North America, Miiverse, the system's Twitter-like online component, was down for parts of the day. As of now, it appears to be stable, but it was out for a while. Folks may have cried bloody murder, but I wasn't as upset. I just started playing games, not knowing what I was missing quite yet.
The Miiverse application, accessed through almost every part of the Wii U menu, reminds me a lot of Swapnote, the note-sharing app released for the 3DS in late 2011. Swapnote was all the rage for a while, before it started to thin out and just become comprised of a dedicated few. It seems like, whether we knew it or not, we were likely participating in a trial run of Miiverse ideas with Swapnote last year.
Miiverse has a leg up on the 3DS app in a few ways, fortunately. First off, it is in there on an OS level. Miiverse is in the system's DNA. Also, it can be used in games. I played the first world of New Super Mario Bros. U while Miiverse was down, and the second world when it was up. Miiverse didn't add too much to the experience, but it was fun seeing my friends, and random comments on certain levels. One guy offered me a warning, saying a fire flower is a must-have for an upcoming level. Another gloated, saying he beat the level without being hit. Naturally, I tried to do the same. That integration makes Miiverse worthwhile to a degree, as it offers a way for players to interact while not doing so directly.
This morning, my first waking up and being able to check the Miiverse, I turned on the GamePad and checked in, much like I do Twitter. NWR Staffer Ariel Ruff played some Black Ops 2. My post in which I wrote "Dear Bowser: Screw you, I'm going to bed" after beating a troublesome level was moderated for sexual content (I guess you can't make references to Samus' Screw Attack, too?). Some friends played more Nintendo Land (We all kind of hate Monita). It was kind of neat. In the same way I check Twitter to see what my friends are doing, I checked Miiverse to see what my friends are playing.
Now, an inherent limitation lingers because it is tied to just the system. That's why I think it is absolutely imperative for Nintendo to get the web and mobile versions of Miiverse out ASAP (and to a lesser extent, the 3DS one). If I could check my phone while away from my Wii U and see that NWR's Zach Miller is still apathetic about Nintendo Land but excited to play Might Switch Force for the fifteenth time, I'd love it. That integrated idea is extremely compelling to me.
Nintendo needs to get on this fast, though, as I fear the longer Miiverse is shaky and/or gimped, the less people will care about it. It's novel, but to get past novelty, you need to make it functional and easy to access.