So Hot Shots Golf on Vita and Tiger Woods on Wii might be more real than Mario Golf on Game Boy Color, but so what?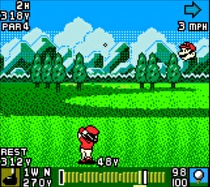 I hesitated on buying Mario Golf on Game Boy Color. I figured I had played a ton of Hot Shots Golf on my Vita and Tiger Woods on my Xbox 360 and Wii. I even played a bunch of Let's Golf 3D on my 3DS in the summer of 2011. Why should I reach back into the vault and play a 13-year-old Game Boy golf game? After having the requisite $5 hanging around my eShop account, I threw down for some RPG-heavy golfing fun.
The beautiful simplicity of Mario Golf is wonderful. It came out on a two-button system, but even with that limitation, it does not feel limited. It has the familiar three-click swing, and you can easily add spin onto your ball by using the D-pad while you swing. Putting is even very intuitive, so long as you know how to read the green correctly.
Meanwhile, in Hot Shots Golf: World Invitational on Vita, I was still lost in the myriad options and control methods despite putting somewhere in the ballpark of 10-20 hours into that game. It's not that it was difficult to execute, it's just that I didn't want that kind of golf experience, and because I wanted something simpler, sometimes Hot Shots Golf would be frustrating.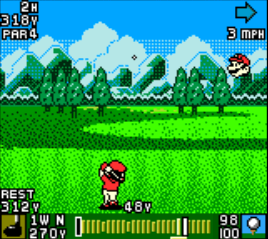 Mario Golf also lets your created character feel like a legitimate threat early on. My biggest complaint with every single Tiger Woods game is that when you start a career, your created player is a huge sack of crap who is forced into competing with Tiger freaking Woods and other top-shelf golfers. You're mostly doomed to lose even if you play your rookie character perfectly.
In Mario Golf, I'm running into a similar issue, but it feels more like I'm Little Mac going up against Piston Honda than Glass Joe going up against anyone. Yes, the Club Champ I'm playing a match game against is better than me in a statistical manner, but with my can-do spirit and smart golf-playing skills, I can win. Or the AI is friendly and the Club Champ will flub an easy putt sometimes.
Mario Golf on Game Boy Color (and Game Boy Advance) aren't overly complicated golfing games, but for most people, that might be what they want. It's why people got really into the golf in Wii Sports. Tiger Woods and other games will offer that sim-heavy experience for those who dream of being on the PGA Tour in another life. It's wonderful that both styles exist (and in certain modes of Tiger Woods, they even exist in the same game), but I'd rather have a nice golfing romp through the Mushroom Kingdom with Mario and friends than anything else.