Sometimes all the hassle is worth it.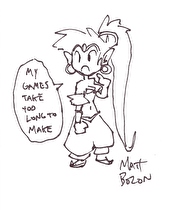 I'll admit--I played some cool games at E3, a place I hadn't been since 2009. Pikmin 3, New Super Mario Bros. U, Darksiders 2, Dead or Alive 5, and Silent Hill: Book of Memories all top that list of cool games. But I also hated the experience. I'll go into this in a later blog post, but E3 is a massive effing headache. Enough to make me say, at the end of three days, that I will never come back. This was my last year, folks, screw this noise. Of course, I likely said the same thing in 2009. Well, as it turns out, there are some experiences you can only have at E3. This is one of them.
Neal Ronaghan, Aaron Kaluszka, Andrew Brown, and myself met with Voldi Way and Matt Bozon for a very informal, off-the-record chat. For the uninformed, Voldi Way is one of WayForward's founders, and Matt Bozon invented Shantae. He's basically their creative genius. I can't really divulge too much about our talk because I don't know how ethical that would be, but I can tell you we talked at length about Mighty Switch Force and especially the Shantae series. Where should it go next? How would we like to see it come back in the future? Would 3D ever be a good fit for my favorite half-genie? The amazing thing is that these guys — who were both the nicest people in the world — were peppering us NWR scrubs with questions. They were picking our brains for ideas, for opinions. We were all bouncing ideas off each other.
You can't get that experience other places. These guys make some of my favorite games — they're probably my favorite 2D developer on Nintendo consoles right now, and good lord, Matt Bozon was asking me how to play up the relationship between Shantae and Risky Boots. That one hour-and-a-half made the madness and exhaustion of E3 completely worth it.
I asked Matt if he'd draw me a little sketch of Shantae, and he was more than happy to. I think Andrew's brain exploded. Eventually, we all had to get back to the show, but I want to thank Voldi and Matt for a wonderful talk. I hope we can do it again in the future!