We'll be live tracking each Nintendo Direct event starting with Japan's at 3 a.m. PDT and ending with North America's on 6 a.m. PDT.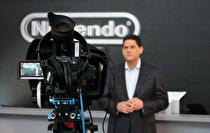 Join the fun as we chat about the announcements as we liveblog them.
2:53:56: The Japan one should start in about 7 minutes.
3:00:34: Iwata is ready! and So are we!
3:02:39: Something about Wii no Ma video service? Not sure.
3:03:19: But here's Masahiro Sakurai - the man behind Kid Icarus: Uprising and owner of an awesome cat - to talk Kid Icarus online multi
3:05:17: This sounds more exciting than it looks. Aaron should have Kid Icarus multiplayer impressions up later today.
3:07:36: Got confirmation courtesy of NeoGAF: Wii no Ma video service is ending April 30.
3:09:10: Talking weapon fusion. You can check our earlier patent research news story for more details. StreetPass for new weapons! It's super cool.
3:11:55: Sakurai explained a bit about how you can collect three parts to form a weapon similar to the Kirby's Air Ride thing (and the power-up in Brawl)
3:13:51: To summarize: Kid Icarus looks awesome.
3:15:22: Talking all the different modes of the game. Right now highlighting AR Cards.
3:16:23: Back to Iwata!
3:18:06: Next game, seems like Fire Emblem
3:19:26: It is Fire Emblem...and was that Marth?
3:20:43: Talking about Nintendo Network and DLC for Fire Emblem
3:22:10: Pokemon?!? Could be a new game?
3:22:31: Or that Nobuanga/Pokemon game.
3:23:18: Fire Emblem DLC will be until May 31. Also, Fire Emblem points cards
3:23:54: Gamefly was right: Mario Tennis Open is a thing.
3:24:22: Touch screen controls. Hit different areas for different hits.
3:25:05: Gyro controls optional. Also, Online! (and local play)
3:25:31: Mario Tennis Open will also have StreetPass. You can swap player data.
3:26:16: New Fatal Frame on Wii? I think we knew about this.
3:27:05: By the way, Mario Tennis Open is coming to Japan on May 24.
3:27:22: Also, Zero Shinku no Cho (new Fatal Frame game) is being shown off for Wii.
3:27:42: Culdcept 3DS is being shown now.
3:28:26: Fatal Frame game, which is a remake, is coming out on June 28 and will have two-player support.
3:28:53: Culdcept on June 28
3:29:54: Now, Cultobit, which is some sort of soccer game.
3:31:50: Cultobit is coming in July, it seems. It's a football/soccer manager.
3:32:03: Kingdom Hearts 3D being shown off. That's out soon.
3:33:42: Rune Factory 4 being shown off. Due out in July.
3:34:08: Also, for 3DS.
3:36:00: Dragon Quest Monsters remake being shown for 3DS.
3:37:06: ooo! online battles in DQM
3:37:35: Showing off Denpa Ningen, the recently release eShop game
3:38:28: Going over eShop games now...
3:39:03: The Rolling Western is next
3:41:19: Rolling Western might be very expensive.
3:41:29: Game Gear!
3:44:01: So there was something with Sega, Capcom, and Namco Bandai. A teaser of a crossover. Released by NB. What the hell? Future announcement...
3:44:23: Etrian Odyssey IV confirmed. Was shown in Famitsu recently.
3:45:17: Coming out July 5
3:46:16: Some sort of new Brain Age? Talking about old Brain Age games.
3:48:00: Rolling Western is from handheld Zelda team, though. Seems to add up.
3:48:53: Also, Rolling Western is out in Japan today!
3:49:53: new Brain Age-esque title: It's about improving your memory for everyday use.
3:51:48: Monster Hunter time
3:54:10: Looks we're wrapping up. Showing off the list of videos/demos available later.
3:57:20: Europe should be starting soon. What treasures will that hold?
4:03:46: European one is just a subtitled and cut-up version of the Japanese one. Will update if anything surprising is included.
4:10:53: In Kid Icarus: Uprising, the 3-part super weapon in multi (ala Dragoon from Brawl/Kirby Air Ride) is called Daybreak.
6:00:18: Reggie's out.
6:00:53: Going over the line-up, highlighting Kid Icarus, Mario Tennis, Xenoblade, and a game we didn't think was coming (Last Story?)
6:01:06: Now, Brill Trinen is showing off The Rolling Western.
6:01:18: *Bill Trinen. My bad :(
6:01:46: Rolling Western out right now!
6:02:16: Jon Yeckley from Treehouse. Him and Trinen are talking Kid Icarus: Uprising.
6:05:49: Mario Tennis Open is being shown by another Treehouse guy. Bill seems to be taking Reggie's thunder.
6:05:59: The Kid Icarus details were the same as in Japan.
6:06:10: Showing off touch screen controls for Mario Tennis.
6:08:16: Apparently the Last Story has been confirmed for North America, published by Xssed. Also, the whole thing is on YouTube, making this liveblog pointless.