Reason #1: Because it promises to be like the first few games.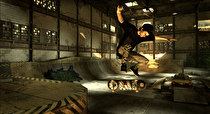 I know Tony Hawk's Pro Skater HD isn't confirmed for a Nintendo console (yet), but my younger skateboarder-wannabe 12-year-old self doesn't care. This game is likely one of my most anticipated games of the year.
Now, with all the mockery over Tony Hawk: Ride and the repetitiveness of the franchise over the past few years, you might think that that is a incredulous statement. However, go look back at the first three games in the series. Even the Game Boy Advance versions and the totally borked Nintendo 64 versions of the game were well received! Tony Hawk's Pro Skater 2 on the PlayStation garnered a 98 average on Metacritic. My personal favorite, Tony Hawk's Pro Skater 3 received a 97 (PS2), 93 (Xbox), and 91 (GameCube) aggregate score, including a 9.0 from both reviewers at Nintendo World Report.
My point is this: the Tony Hawk games were once fantastically awesome, with excellent arcade gameplay, a great sense of humor, and an amazing soundtrack. I've spent countless hours with these games in the past, and I can't wait to do the same with this new game. I just wish I could do it on a Nintendo system, and I hope that when Wii U hits, Activision will announce this game's imminent release.
You might have never been on the Hawk bandwagon, or fallen off a long time ago, but you should consider hopping back on. The older games (from the GameCube era) still hold up surprisingly well, and if they're using that model to make this game, it should prove to be excellent.
Indeed, Robomodo, the developers behind Ride and Shred, is using Neversoft's original code to make these levels, some of which have been revealed. From the first game, Warehouse, Mall, and Phoenix are returning, and from the second, School 2, Venice, Marseilles, and Hangar.