A look at the free Mario bonuses that EB gave out.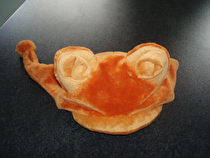 Last year, EB games in Australia gave out free Mario hats to those who preordered Mario Kart 7, and Tanooki ear hats for preorders of Super Mario 3D Land. While my 3DS is US region and I had both games imported, I was recently able to score one of each of the bonuses due to a leftover supply at one of my local stores.
As Nick reported at the time, these hats were not officially licensed merchandise, however the quality on both is surprisingly nice. They're made from a very plush polyester that's soft to touch, and the stitching, particularly on the M logo, is just as nice as some official stuff I've seen in stores.
The Mario hat comes with an elastic rim allowing it to stretch if need be, and while obviously designed for younger wearers, I still had little effort fitting it on my over-sized head. The Tanooki ears hat acts more like a hood. It comes with two flaps that can be wrapped around your cheeks and looped through each other below your chin, making it look kind of like the hood of the Tanooki suit in the game. It has a high back, so any female wearers wouldn't have to worry about stuffing their hair up inside it, a nice consideration.
All in all, for free giveaways these are surprisingly nice. Some stores still have leftover stock, so if you missed out and still want them it may be worth asking the staff to check the storerooms.
Check out the gallery below for some more detailed pics.