Because we love you too after all!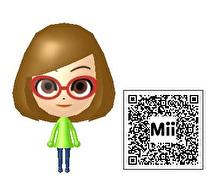 The Japanese got a brand new piece of stationery through Swapnote/Nintendo Letter Box, thanks to a New Years message that was sent out to users. While it might seem you won't be able to get it, that isn't exactly the case. By sending a message with this stationery, North American/European players will get it unlocked in their version of the application.
This is where we step in to help! We have a Japanese code for you available, which you are completely free to add so that we can send you the stationery. This code might also be used in the future for contests through Swapnote/Nintendo Letter Box to win a small prize. The friendcode is 1590-4901-5293. Be sure to shoot me a message with your code or leave it here in the comments section below.
As an additional bonus to this article, we have here for you the official QR code of Nikki, the helpful Mii from this very app for you to use and abuse.
Update: The Friends List is full! If you still want to join the fun, add this code now instead: 4682-8821-5334!