Santa Claus has been keeping tabs on the kids' wishlists this year!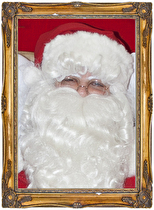 These holidays, I happen to have had the unique opportunity to chat with Santa Claus and get his personal opinion on what's in and popular this year. Don't ask how, it's a secret to everybody.
Jolly old Saint Nick has been more than happy to disclose some of the intricate details about the gift requests that have been made to him from all the kids lucky enough to be on his Nice List. Now, since I'm on the illustrious NWR staff and all, I thought it'd be a good idea to take note of the frequency in which Nintendo stuff is on the kiddies' wishlists. We already knew the outcome, due to the overwhelming awesomeness that is Nintendo, but here it is, straight from the kids' mouths.
Of the requested Christmas presents Santa was asked for, electronics were high on the list this year.
"Many children are still asking for those strange iPod devices, but that number has diminished since last year. Now it's all about that new 3DS system."
From the amount of game-related gifts Santa had been asked for, the vast majority was in some way related to Nintendo. Most kids wanted a 3DS or a DSi, while some kids were still asking for the Nintendo Wii. Just below that, an Xbox 360 was another popular choice, though the Kinect peripheral didn't seem to matter so much to them. In fact, one kid specifically stated he wanted his Xbox "without Kinect". The only PS3 game Santa had been asked for (at the time of interview) was Call of Duty 3, while no PS3 consoles nor PSPs were desired at all.
The most requested game software titles this year were Skylanders, Mario and Sonic at the London Olympic Games and Mario Kart 7, followed by LEGO Harry Potter or Pirates of the Caribbean.
Some kids asked for Super Mario 3D Land, Sonic Generations and Moshi Monsters, while much to Santa's disappointment, nobody asked for anything Zelda related at all.
"I expect that next Christmas they'll all be asking for a Wii U, I just hope it's out in time. Those elves have to secure their manufacturing contracts with the developers well in advance, you know."
Those wondering about the most requested non-game gifts this year: trampolines, scooters, bicycles, LEGO (mainly Harry Potter or Ninjago types) and My Little Pony. A surprising amount of children still hadn't decided on a present even as late as Christmas Eve and simply opted for "anything" or "a surprise."
The most unexpected gift requests for the year included lava lamps, stilts, venus fly traps, a bell from one of his reindeer's harnesses, and one little boy who apparently asked for a real live witch doctor.