Three Wii games, a 3DS game, and oh man, look at that eShop list!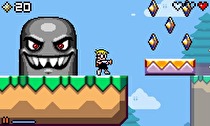 Nintendo released their Q1 2012 release line-up, and as is tradition, we'll all endlessly analyze it and complain about how Animal Crossing and Paper Mario aren't out yet. I'll go system by system and run down what's cool, odd, and awful.
3DS
Kid Icarus: Uprising, revealed at the same E3 press conference that the 3DS was unveiled, will be out just shy of a year after the system came out. It's about time. Sadly, that's the only Nintendo-published game hitting retail in Q1 2012.
Luckily, Resident Evil: Revelations (Capcom), Tales of the Abyss (Namco Bandai), Metal Gear Solid 3D (Konami), Funky Barn (Ubisoft), and Crush 3D (Sega) are coming out in this window, too. Especially curious is the fact that the Circle Pad Pro, which just came out in Japan and is being bundled with Resident Evil in Europe, is coming out as a GameStop exclusive on February 7, which is the same day that Resident Evil: Revelations hits North America.
Nintendo neglected to mention anything about the Circle Pad Pro being compatible with Kid Icarus: Uprising, though, which makes me increasingly worried that the game will be very difficult to play for lefties. Skyward Sword was still easily playable for lefties in the right-handed mode. Kid Icarus, on the other hand, isn't.
On the eShop, shit is about to get real. Nicalis should be gracing us with VVVVVV and NightSky. Nintendo is bringing out Sakura Samurai: Art of the Sword, Dillon's Rolling Western, and Kirby's Block Ball. Two of my most anticipated 3DS games period, Renegade Kid's Mutant Mudds and WayForward's Mighty Switch Force, are due out in this period, too. Oh yea, and stalwart Nintendo download developer Shin'en is putting out a mini-golf game and what appears to be a Jett Rocket game in the style of Wave Race or something. The eShop should be an embarrassment of riches in Q1, which is good considering that appears to be where Nintendo is putting their eggs in.
Wii
We've reached the end game with Wii, which some would argue happened in late 2010. Skyward Sword just gave the system a pardon for most of 2011's awfulness, and Nintendo appears to be seizing that opportunity and putting out three games in a month span. Beginning with Rhythm Heaven Fever (at a bargain $29.99 price!) on February 13, Nintendo has a new Wii game coming out every two weeks (Poképark 2: Wonders Beyond on February 27 and Mario Party 9 on March 11). Those games aren't at the same level as Zelda, but all three appear to be solid sequels in mostly niche franchises.
Elsewhere on Wii, people dance and sing while playing baseball.
On WiiWare, La Mulana might finally come out. I'll believe it when I can see the game on the Shop Channel.
DS
The DS isn't fully dead yet. It's like Westley in The Princess Bride. The DS is mostly dead.
Still, the only game worth giving a crap about is Shin Megami Tensei: Devil Survivor 2, which is due out in February thanks to Atlus.