These will be weekly, I swear.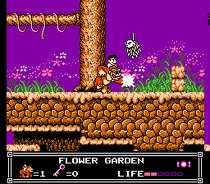 E3 2011 was a blur. It was so much of a blur, in fact, that it consumed way more than just the three days it actually took up. For the past two-and-a-half weeks, I've been embroiled in E3 insanity. I'm finally coming back down to earth. There were some other things outside of the site that got in the way, but that's not up for discussion up here. Now, let's talk what's going on with games right now, at least from Ye Olde Director's point of view. To make this simple, I'll make a list of the gaming-related things that have consumed me lately.
The Legend of Zelda: Ocarina of Time 3D: I've had a renewal of my gaming vows to Zelda this year. I replayed Wind Waker back in April, and I blazed through Ocarina of Time for sake of the review (check out the video review Jared put together. It's awesome). I hope you're all enjoying this game right now. It was a delightful and comforting trip for me, almost akin to going back to Disney World. Things changed a bit, but the Magic Kingdom is still the damn Magic Kingdom, and I still feel like a little kid there.
3DS eShop Virtual Console: I'd say I'm using the eShop, but after an infatuation with it (when it worked) during E3, all I care about are the Virtual Console games. Since beating Ocarina of Time, I've almost exclusively played Link's Awakening and DK '94. Both of those games freaking rule. Sorry Excitebike and Pokédex, you are lame. Bring on the Mutant Mudds!

Cubic Ninja and DualPenSports: Two new 3DS review games showed up over the weekend. Some combination of Jared, Andy, and me will write up reviews on these games. My first impressions on Cubic Ninja are that it is weird, and extremely limited in scope because of the silly motion controls. It's not quite Super Monkey Ball 3D bad, but it unfortunately borders on that sometimes.
Wii Play Motion: Matt Blundon should be covering those motion games like a blanket soon. I remain unimpressed by a game where you use an umbrella to glide. Sorry, not doing it for me.

I Use My Wii For Netflix Only: This is true, unfortunately. Lauren played Harvest Moon on Wii for a bit while I was at E3. Our cat, Bowie, followed the pointer on the screen. It was adorable. I miss having games to get excited for on Wii that have set release dates. It has been months.

Little Nemo Is Weird: I bought Little Nemo: The Dream Master on NES recently, and man, that game is messed up. You feed animals candy until they pass out, and then you take over their body. I know it is a dream, but seriously, that is whack.