Fan-made AR card makes for super-sized Mario.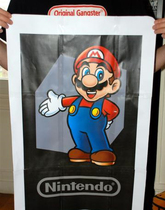 Inspired by Club Nintendo's announced gift of a giant-sized AR card, French site Nintendo-Master has experimented with their own custom-made card. Using his printer and 36 sheets of A4 paper, fan SpiderPom fashioned a gargantuan replica of the 3DS's original Mario card, measuring over 1.50 meters tall.
As of today it is the largest (so far) in the world.
The experiment proved to be a big success, popping out a larger-than-life plumber. The relatively small resolution of the photo leaves a bit to be desired, but from a technological standpoint, it shows the potential for some interesting game developments in the future. I can't wait until someone inevitably takes a photo of a colossal Mario stomping on buildings or Link doing battle with skyscrapers. Nintendo provides the AR cards in PDF format, so you can try to replicate SpiderPom's results yourself.
Original article here.