Join TYP on his VIP Disney adventure!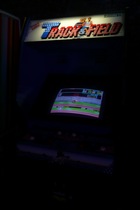 On Thursday, Disney invited me to a promotional press event for Disney Epic Mickey at Disneyland. Of course, the showpiece was Mickey's new game, which you can read all about in my impressions. Disney pulled out the red carpet for us gaming journalist-types, and I thought others might enjoy reading about our little adventure.
After receiving our complementary park-hopper tickets, Disney kicked the afternoon off appropriately enough with some classic Mickey cartoons showcased in the Lincoln Theater on Disneyland's Main Street. After everyone had gathered, Warren Spector re-introduced the game to everyone (via PowerPoint), explaining the inspirations behind the game and some history on Oswald the Lucky Rabbit. He also highlighted his development team's overall goal of creating games that, like Disney and Pixar movies, are made for everyone. The presentation was largely ground he had already covered during his E3 presentation and various interviews, but it was still interesting.
Gaming and food: What more could you want?

Journalists were then invited to spend a few hours with the game at demo kiosks placed around Disneyland's famous model of the US Capitol building. Disney also provided a light lunch, refreshments, and sweets. Afterwards, Warren invited those who didn't mind spoilers to watch the game's ending. (I won't ruin it for you, but will say that it is sweet and very Disney.)
Warren passionately explains the park's history

The group then reassembled for a VIP tour of Walt's first theme park, hosted by Warren himself. The highlight of the tour was a rare opportunity to visit Walt's apartment, located on the second floor of the fire station on Main Street. This was Walt Disney's retreat from the hustle-bustle of the park during construction and even after the park's opening. Preserved for posterity, the apartment includes a kitchenette, bed, phonograph, photos, and other knick-knacks. Unfortunately, Disney requested that photos of Walt's apartment are not be publicized without their consent.
A walk through the park

Bubbling with excitement and with a glint in his eye, Warren explained that although this was the first time he had been in the apartment, it is all meticulously recreated in the game. Assisted by Disneyland tour guides, Warren then led us around the park, providing some history about key attractions and how they manifest themselves in the video game. We also rode a few rides along the way.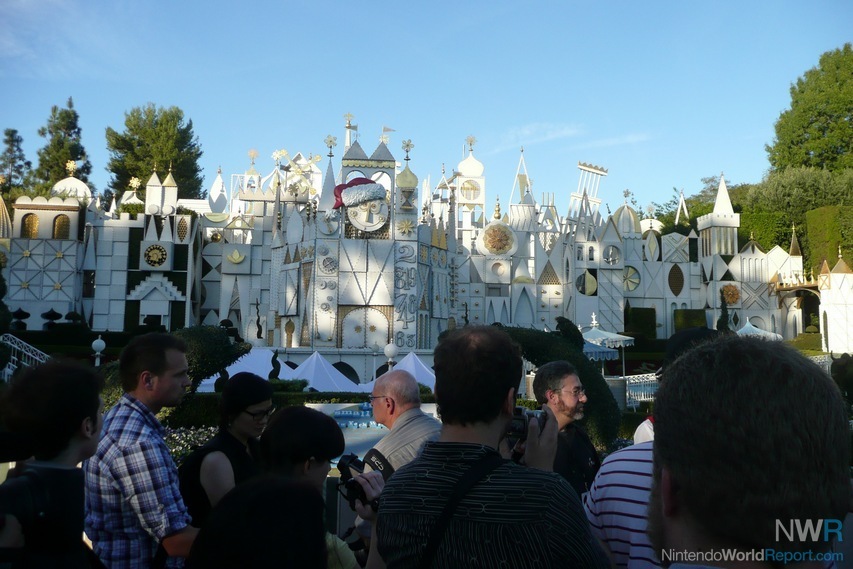 One of Epic Mickey's boss battles

After getting our press kits and a complementary Steamboat Mickey plush doll, the journalists, along with the developers and PR representatives, reassembled in Disney's California Adventure for dinner. This was the most memorable part of the whole event. Not for the food, mind you, but for the two talented Disney animators that drew character portrait sketches on request. The artist I met was clearly very experienced and gifted, and drew so gracefully and effortlessly with her pencil that the characters practically revealed themselves from the paper. Socializing with the requestor as she crafted her magic, she shared her incredibly deep knowledge of Disney characters, voice actors, and fictional universes. Before long, folks were asking for quirkier and more distinctive characters such as Baloo, Roger Rabbit, and (being a video game event) Scrooge McDuck.
Magic sculpted before my eyes

Disney capped off the evening with their impressive new water show, World of Color, located in Disney's California Adventure, and a less impressive preview of the new Tron movie in stereoscopic 3-D. (I would have much preferred to watch the Muppets attraction it temporarily displaced.) But Disney made it all better by then taking us to a retro arcade across the way inspired by the movie.

Paradise Pier & Flynn's Arcade

I enjoyed utterly failing at classic acrade games I knew from the NES, such as Track & Field, Arkanoid, and Donkey Kong.
Chris Kohler of Wired's Game|Life column plays Punch-Out!!

Disney put on one heck of a show. Exhausted and tired, I made my way home…but not before breaking down and buying a Disney pin. (It had a dreidel!)