Pedro takes a look at the Mario goodies courtesy of Club Nintendo.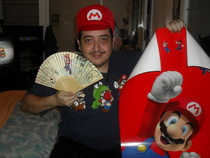 Question: If this year marks Mario's 25th birthday, then how come I am the one receiving all the goodies? :p
But all kidding aside, in honor of this occassion, I ordered a lot of Mario related goodies from Club Nintendo, including one the recently added Mario Japanese sensu paper fans.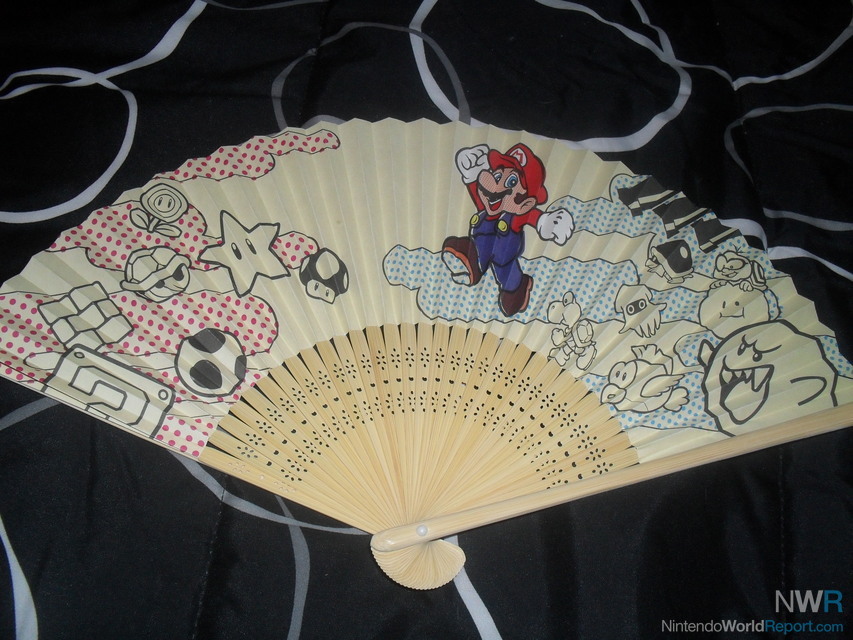 The Mario paper fan


I ordered the white Sensu fan, which features a fully colored Mario jumping across the fan while the traditional baddies adorn the left and right side of the fan. First, the obvious. The paper is very thin and sensitive, so if you plan to order one of these to fan yourself during a heat wave, you better try something else because constant use of it might destroy it. The hinges and the handles are made of bamboo wood, polished to a shine. The fan closes neatly and rarely will you get it stuck.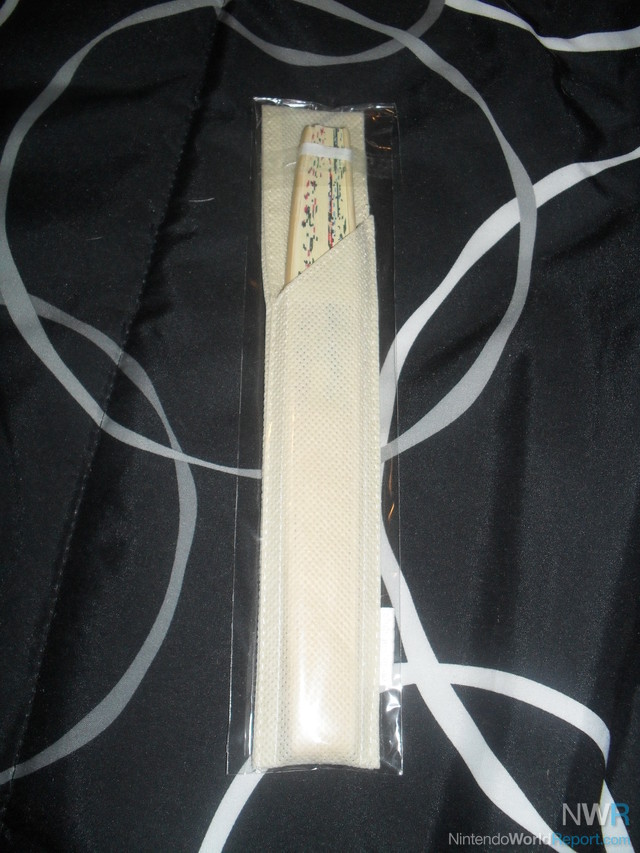 How the fan looks like packaged


What I really appreciate, though, is how it came packaged. It turns out that the mailman left it on my malbox, and today it had been raining cats and dogs. Lucky for me, water didn't get onto the fan. That's because it is triple protected. First the fan comes in a small light peach pouch that is very soft and even traditional. That pouch is stored inside of a plastic pouch that fully protects it from any harm like water or troublesome shipping processes. At the top is a paper strap that closes the fan shut so it doesn't open on its own when moving it around. I give Nintendo a thumbs up for handling these fans very well.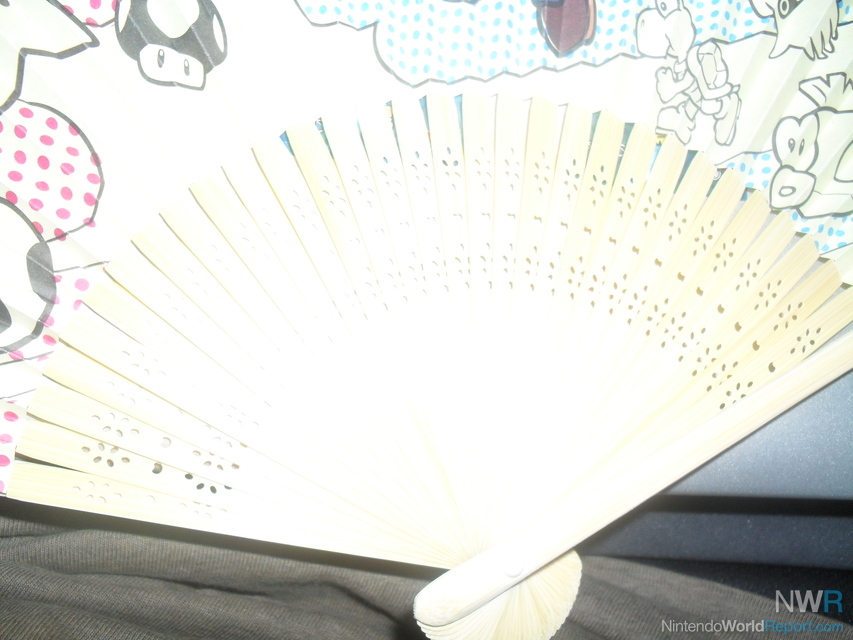 Close-up of the handle


So as a fan you can use for yourself, it works well enough, but again, constant use of it might destroy it in the long run. As a collectible, however, I love it. The colors are vibrant, and the detail is astounding. I gotta find a neat place to display it as it is way too nice to keep it hidden away.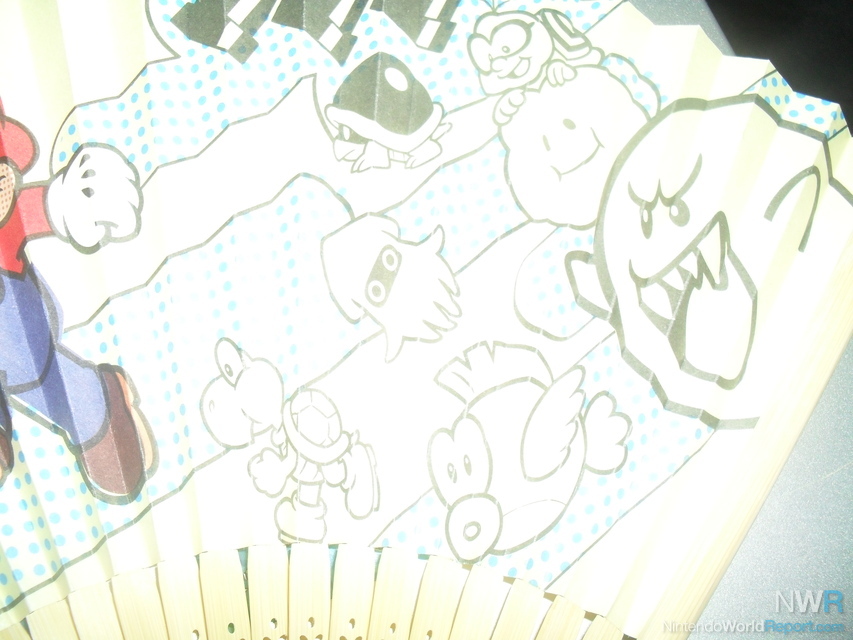 Mario's enemies


Now, the three-poster Mario set is fairly old. It was introduced sometime at the beggining or middle of the year, and since I am such a big Mario fanboy, I decided to grab them as well.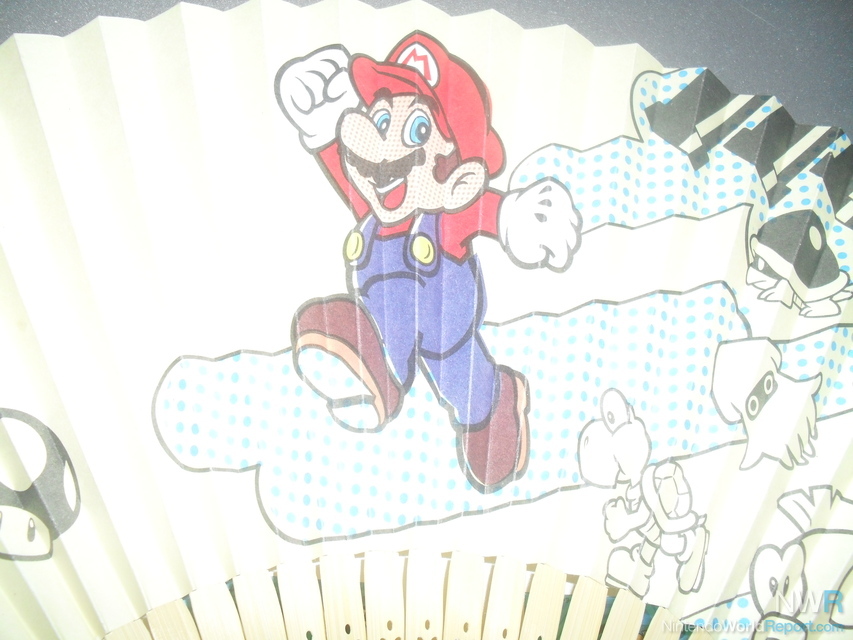 Mario in the center of the fan


These posters are very high quality, and made with the same glossy paper as the Legend of Zelda poster sets released last year. Funny enough, I am going through the same problem former staff member Lukasz Balicki faced when he received his Zelda posters (as detailed by his blog post here), and that is that the posters are so high quality that I really want to display them in the best way possible. The colors are beautiful, perfectly capturing the happy spirit of the Mario franchise. I am afraid of using cheap tape or something to put them on my wall. If they go up, they need to do so in the best manner possible.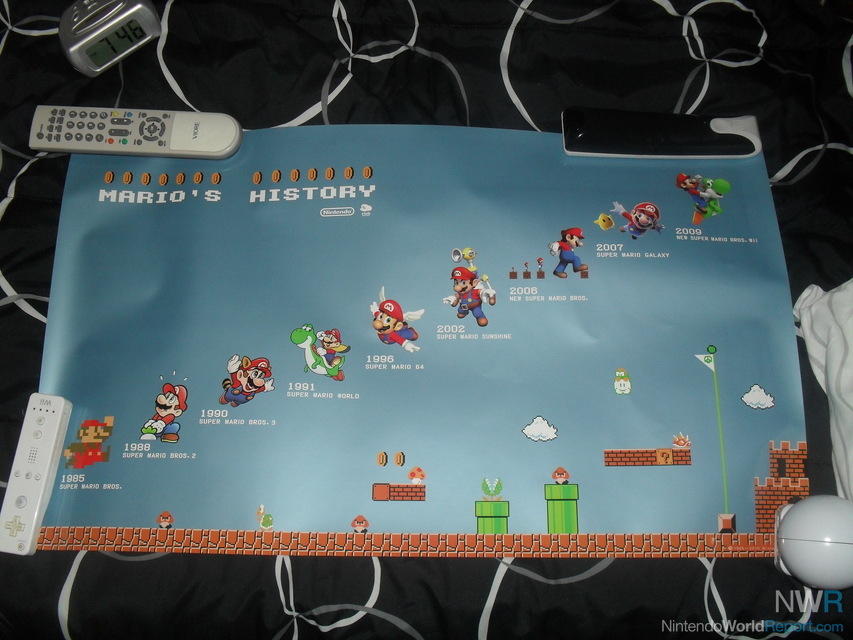 "Mario's History", the abridged poster version


The first of these posters is "Mario's History". The background features the classic Super Mario Bros. stage while artwork of Mario's past games cover the skyscape. Note that this was released before the official anniversary event, so it ends at New Super Mario Bros. Wii instead of Super Mario Galaxy 2. Last year's Zelda poster series also featured a "History of" poster.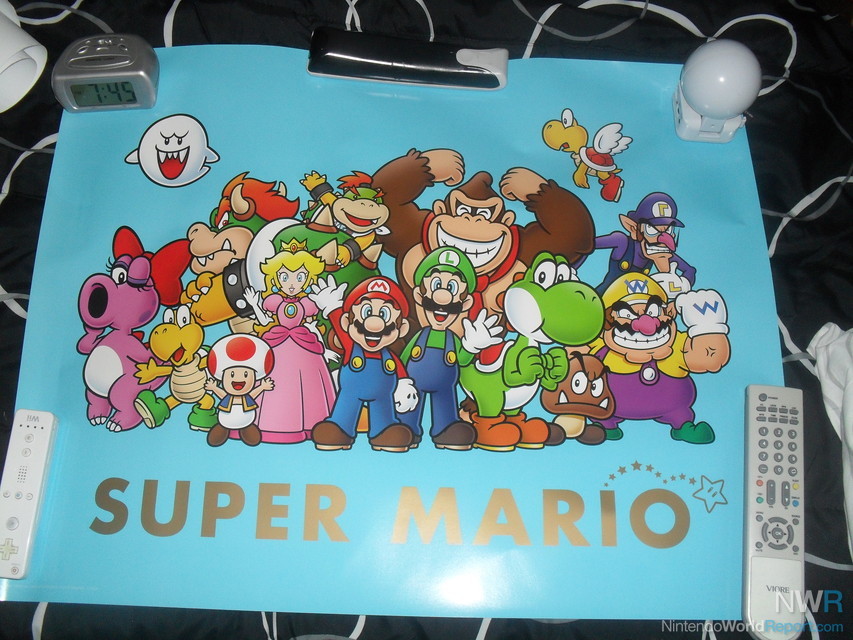 "Mario's Family", featuring favorites such as Birdo, Bowser Jr. and WALUIGI!


The second is "Mario's Family". This might be my favorite poster of the three, as rarely do you see all of Mario's friends featured on one poster. The poster features familiar characters like Peach, Luigi, Wario, Bowser, and Donkey Kong, along with lesser known characters like Birdo, Waluigi, and Bowser Jr.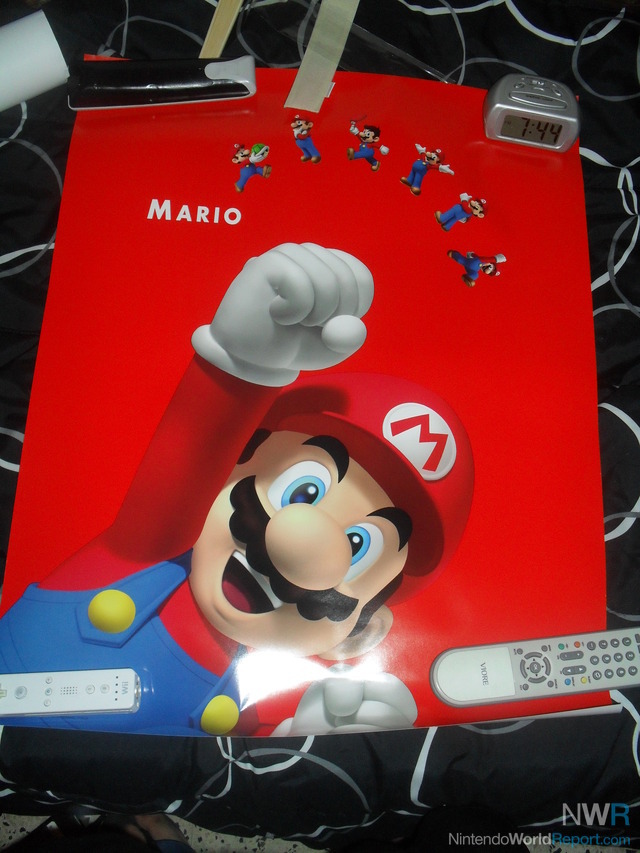 It's a me, Mario! And me! And me! And me!


Finally, "Let's Go!", a bright red poster features Mario's signature victory pose covering a great deal of it while classic Mario renders are featured on the top of it. It's very plain and simple, but the red is very eye-catching and vibrant.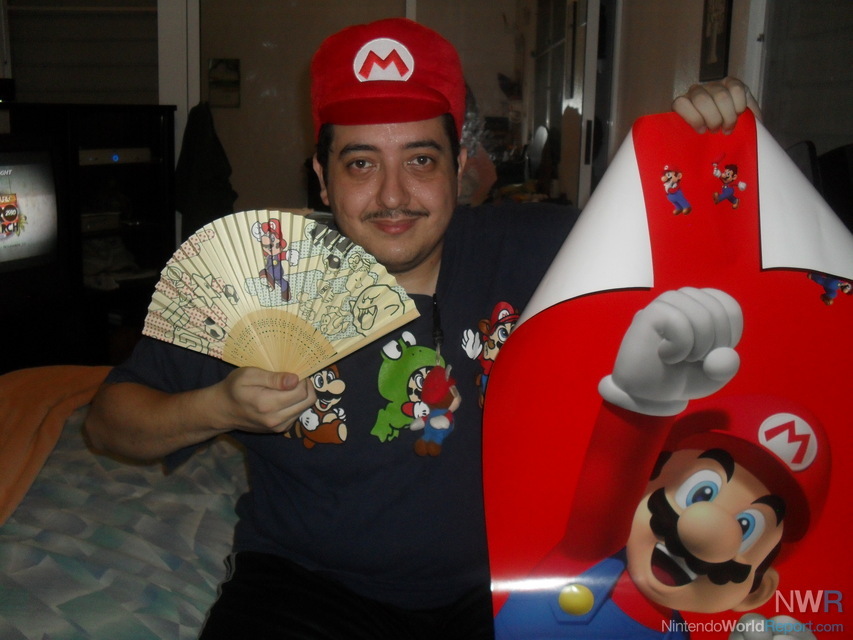 Pedro likes Mario it seems


And that's my recent Mario haul. I couldn't help but indulge myself in everything Mario as Nintendo celebrates the release of his first platforming game, Super Mario Bros. It was the first Nintendo game I ever played and to this day I still play it. Thank you Nintendo for giving us such a wonderful franchise, and may it outlive us all and continue to delight the next generation of gamers, dark shooters and violent games be damned!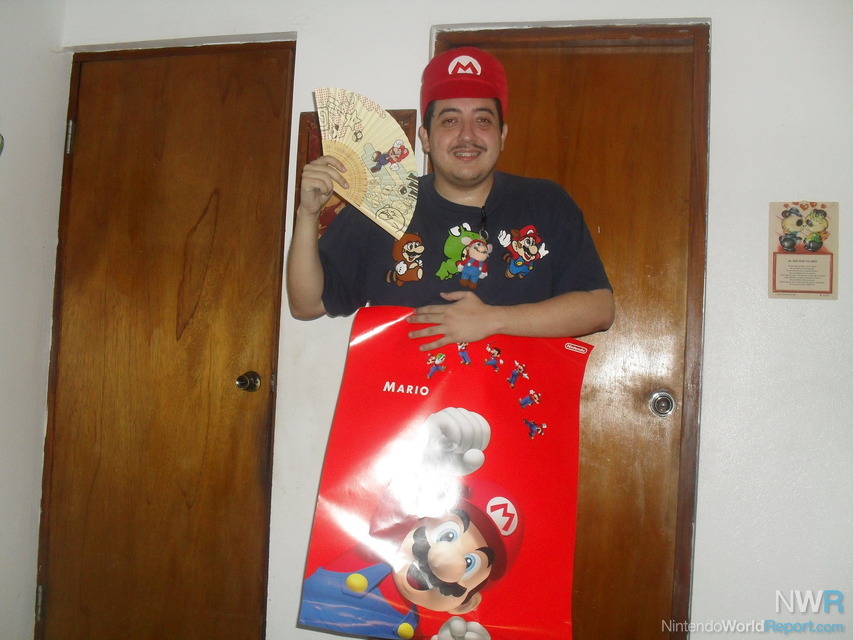 Guess I am too much of a Mario FAN-boy! Ha ha ha! OK, I'll stop now...