Watch as Neal dodges actually talking about games due to embargoes!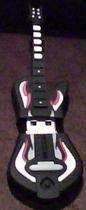 If you've followed the site or the game industry for a while, you might know that occasionally there are bombastic and over-the-top press events. Activision usually hosts these, but other companies are also known to hold them as well.

Activision's latest shindig involved Guitar Hero: Warriors of Rock, GoldenEye 007, and Blood Stone. Held in San Francisco at the DNA Lounge, the event featured a ground floor packed with Guitar Hero setups, and a second level with plenty of GoldenEye and Blood Stone representation.
Unfortunately, I can't talk about what I saw about the games yet due to embargoes. We'll have interviews and impressions rolling out over the next few days, but until then, I'll just list some of the cool non-gameplay related parts of the event.
Looked over at a corner of the venue and saw Richard Kiel, the towering man who played Jaws in various Bond media, sitting and being interviewed.

Minutes later, I saw Richard Kiel stand up and felt truly inadequate as he is two or three heads taller than me.

There were various Activision employees playing GoldenEye multiplayer while wearing the pre-order-exclusive Oddjob Cheater shirts. I'm sure they were mopping the floor with all comers by night's end.

Ted Newman from n-Space, who we interviewed earlier this year, is really cool. Also, he totally listened to the Radio Free Nintendo RetroActive on Geist. Somewhere, Jonny Metts is giddy.

Vicarious Visions can make the Wii sing online. Seriously, I'm pretty sure the Wii sang the back-up parts to "Bohemian Rhapsody" by Queen.

Dave Mustaine, front man for Megadeth and contributor to Guitar Hero: Warriors of Rock, and/or the girl he was with smelled very nice. I know that sounds weird. All I know is I walked down a set of stairs behind them and something nasally pleasing wafted up to me.

The Golden Gun is challenging to put together. Also, overheard some crazy story about how Christopher Lee learned to put it together.

Saw the Golden Classic Controller Pro. Not going to lie, it wasn't any more impressive than the regular Classic Controller Pro. I still might get it when it comes out.

They gave out a guitar-shaped flash drive for Guitar Hero assets. Scroll back up to the top of the article to check it out.
I hope you enjoyed this series of random comments about this press event. Expect some Guitar Hero goodness tomorrow, and some GoldenEye love on Monday.