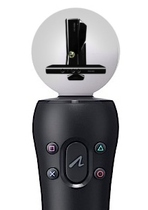 PlayStation Move
The Sony Move feels very much like a Nintendo Wii Remote, although I found its rounder, more microphone-like shape to be a tad uncomfortable since I'm used to Nintendo's offering. The device is built very sturdily, but to me it felt a tad heavier than a Wii Remote + Wii MotionPlus. This could have just been the difference in weight distribution: the Move rested more on my fingertips than a Wii Remote + Wii Motion Plus, since the Wii MotionPlus makes Nintendo's comparable controller bottom-heavy and is largely supported by my palm.
Ergonomics aside, the Move software I tried out — TV Superstars and the The Shoot — left me unimpressed. In TV Superstars the pointer-equivalent controls were not sensitive enough, so I had to make very broad movements with my arm to move the on-screen cursor from one side of the screen to the other. I didn't have this problem with The Shoot, but for both games the pointer felt laggy. At first I thought this might be a television calibration issue, but when I tried a gyroscope-based game in TV Superstars, the on-screen action was far more responsive. The difference between The Shoot and the shoot-the-targets mini-game in Wii Party, which I tried promptly after my time with Sony's Move, was drastic. I don't know if this pointer lag is inherent to the hardware or simply poor coding in these early Move titles, but it left a negative impression. Oh, and did I mention these two games were a Wii knock-off waggle-fest and uninspired shooting gallery game, respectively? Yeah.
Kinect

Kinect, on the other hand, was a far more pleasant and unique experience. Others attending E3 seemed to agree: I waited 5 minutes to play the Move on the second day, and about an hour to play Kinect on the third. Kinect Adventures was surprisingly enjoyable, if a bit simple. In the first mini-game my competitor and I drove cars by holding up our fists as though we were holding a steering wheel. Starting this game required me to pull my hands back and then thrust them forward — a gesture that newcomers without a tutorial may not be able to figure out — but otherwise steering was responsive and intuitive (there were no gas or brake pedal motions for this game.) The other mini-game I tried required me and my partner to lean to either side and jump in tandem to steer a raft down a river while collecting coins. Like the driving game, the rafting game was simple but fun with responsive controls.
Supposedly Kinect can track something like a dozen people at the same time, but given the space necessary for the body gesture controls, I cannot see more than two people playing Kinect at a time, nor do I see the interface as viable in small or cluttered rooms (not unlike Wii Sports, Wii Fit, etc.). The on-screen cursor is controlled with a fist, and a button click is simulated by hovering your fist-cursor over the button. This felt odd to me, but it is perfectly functional and should be familiar to tablet PC owners.
Those gripes aside, the tech seemed solid: walking behind two people playing didn't phase Kinect at all, and although the Internet is teeming with reports of how it cannot (yet) be used while sitting down, the camera input device seems most uniquely suited for gameplay where players are standing, and a standard controller is a better choice for Xbox 360 menu navigation anyway.