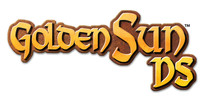 The majority of GameStop locations have a TV in their store that plays an in-house network. It features previews of upcoming "major" titles, and profiles of recently released ones. All the features are packaged within a GameStop advertisement ("Talk to a GameStop about reserving this awesome game!").
At lunch today I went into GameStop, looking for nothing in particular, trying to find a "good deal." As I wandered around the store my ears perked up when I heard the TV mention Golden Sun DS.
The segment featured a brief preview of the upcoming DS game. While it didn't have much in the way of new information (all I picked up was that the hero of this game is descended from one of the heroes of the previous GBA titles), it did feature some gameplay videos I didn't recognize.
The interesting bit was in the wrap-up for the piece. "Golden Sun DS, coming soon to GameStop." Perhaps I'm reading too much into this, but how soon is "soon?" Generally speaking, they don't feature games too far in advance of their release. Most of the games currently being previewed have early summer release dates (for example Other M is not being featured, and it is in August).
It's been a while since we heard anything about Golden Sun, and GameStop got their gameplay video from somewhere (Nintendo), so perhaps it isn't as far off as we suspected.