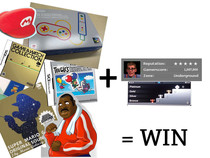 OK, so earning coins for buying products which you can exchange for gifts is not comparable to the achievements / trophies systems on the other consoles, but I think it's a great stepping stone for the next console.
Imagine this. Upon inserting your newly-bought game into your Wii HD, the console recognizes it and asks you if you want to register it with Club Nintendo. You agree, and get 500 coins - all without leaving the disk channel.
Now imagine an unlock system like the one in Super Smash Bros. Brawl for every single game. Now, your next 500 coins will have to be earned by meeting certain tasks in the game. You beat "New Super Mario Bros. Wii 2 HD: Yoshi's Safari" and you get 50 coins and the ability to play as Luigi; you collect all the stars with your eyes closed, and you get 100 coins and a new title screen.
I'm talking about unlocks and coins (basically achievement points) being tied together. You get an in-game reward and a real world reward at the same time – imagine the joy!
Not only will you feel like playing games for the sake of showing your friends your coin stash, but you'll be able to get real stuff to play too.
Imagine collecting enough coins in Starfox Wii HD, exchanging them for Nintendo Points, and buying the N64 version on Virtual Console. I'm pretty sure a system like this would get all sorts of gamers onto Nintendo's console. After all, not everyone likes to play games just for achievements points, but I'm pretty sure anyone would play games to completion to get presents, downloadable games, and Virtual Console titles.
Club Nintendo already exists in every major region across the world, with certain differences in the gifts available. This doesn't have to change. What does have to change is the way we can access, earn and exchange the coins/stars – it has to be unified and put to good use.
The current problem with Nintendo's setup is that the only way to earn presents from Club Nintendo is to just "spend more money on games". The problem with the Xbox 360/PlayStation 3 achievement systems is that they are ultimately an utter a waste of time, other than for bragging rights.
If you put these two systems together, gamers would have great reasons to play games to completion, buy more games, and brag to their friends (if you like that kind of thing). In the process, they would get some awesome swag and/or games that they will have earned thanks to their own skill and determination.
I know the chances of this dream scenario happening are slim, but even if we get a half-baked Nintendofied version of this system, it would be pretty awesome.
Personally, I'd rather get a Mario hat than a platinum trophy any day of the week.