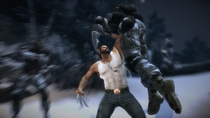 On the other hand, the Wii, DS, PS2, and PSP versions were made specifically for the movie. These titles are being developed by Amaze, who are responsible for the great Spider-Man: Web of Shadows recently released for DS. While the Xbox 360 and PlayStation 3 versions are rated Mature, the Wii version will be rated Teen and the DS version will rated E10+. As far as I know, the Wii version is its own game and will feature less of a story than the HD versions. For example, there is a Sentinel boss battle that will not be in the Wii version. The Wii version will also feature motion controls. The DS version will be a Metroidvania game like Spider-Man: Web of Shadows was for DS last year.
Going back to the Xbox 360 and PlayStation 3 version of the game that I got to play last week, it is outstanding. At heart, it's a beat-'em-up, but there's so much variation in the combat that it doesn't become boring. The best addition to the combat is the lunge move, which can also be used as a crude lock-on mechanic. When an enemy is highlighted, Wolverine can pounce on them from far away and follow up with button presses to initiate a combat chain.
The game deserves its Mature rating as blood flies, heads are decapitated, and bodies are ripped in half. It even has finishing moves called quick kills that are similar to MadWorld's finishers. One of these finishing moves has Wolverine fighting with an enemy to point his gun at his head and blow it off. There's a different one for every enemy type and it is fun to discover how Wolverine dispatches each enemy.
For the unfamiliar, Wolverine possesses a healing factor that allows him to quickly recover from virtually any wound, disease or toxin. This healing factor makes it so you're almost impervious to light damage. Also, his shirt is torn away as you take damage, but strangely, his pants always stay on; it must be like how the Hulk's pants always stay on.
To break up the action, you have the occasional puzzle, which generally involves moving blocks around. It's a little weird seeing Wolverine solve Zelda-esque puzzles, but it adds some much needed variety to the game.
As far as boss battles go, I only fought one major one against Sabretooth. It was interesting how they handled his healing ability (which is similar to Wolverine's). Basically, you had to fight him multiple times because every time he got low on health, he would push you away and regenerate.
I didn't get to play these battles, but the development team also demoed a boss fight against the Blob in a supermarket and an epic fight against a Sentinel.
I am very excited for the Xbox 360 version of X-Men Origins: Wolverine, which is scheduled for release on May 1, 2009.