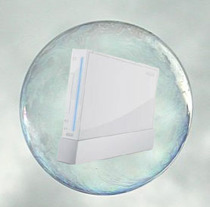 Wrong. The Wii is here to stay whether people like it or not. Did the DS bubble ever burst? Of course it didn't, because it wasn't (isn't) a fad. I find it particularly surprising that people still don't see the parallels between Nintendo's two systems.
Casuals signed on with the DS when Brain Age, Nintendogs, Animal Crossing, and New Super Mario Bros. made their debut, and since then the system has become one of the best selling pieces of hardware in gaming history. Furthermore, the system has become a haven for all games of any type, not just a dumping ground for shovelware and cash-in "casual" games.
I can only assume stubbornness has prevented most big companies from jumping on the Wii bandwagon, but it looks like with Dragon Quest X and Monster Hunter Tri in line for Wii releases, it's going to be impossible to eschew Wii development. Similarly, the "hardcore" crowd will be forced into a Wii purchase in order to continue playing the series they covet from prior generations.
A recession won't stop this train either. Even if it does drag down entertainment sales as a whole, the Wii is no more likely to lose sales than either the PS3 or the Xbox 360, especially with its competitive pricing.
Perhaps people want to keep predicting when the "fad" will end because they fear they will have to sacrifice what they covet about gaming. Traditional games will not cease to exist simply because companies shift focus to the Wii. More than likely, shifting these properties to Wii will ensure them a healthier future and a larger user base. Though games will suffer a resolution hit, it will hopefully allow a larger portion of the budget to be focused on substance rather than flash.
I say sit back, relax, and enjoy the ride, because the Wii has got this generation on lockdown.