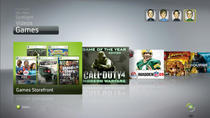 Though I personally am starting to be annoyed by it, I believe the channels system for the Wii Menu is a good idea when considering those who maybe aren't so technologically advanced enough to navigate through more complex menu systems such as the PlayStation 3 XMB or the (now) old Xbox 360 dashboard. The thing is, though, that as we've just seen with the Xbox 360, the front end interface of a game console can be radically altered with a simple software update. There's no reason why a similar makeover couldn't be possible on the Wii.
Consider already that Nintendo is fixing (kind of) a major flaw in the hardware, the lack of storage space, with some promised software updates. Initially, Wii Channels or Virtual Console games could not be accessed directly off of an SD card, and the deletion process recommended by Nintendo to help clear up space was so convoluted and inconvenient that it was probably costing Nintendo lost sales in the long run. The fix, which will come in a future update, will no doubt help alleviate these issues. A previous software update has sped up the SD transfer process, showing that's it's possible to improve upon hardware with the right kind of software.
The thing that's most promising about this, however, is that it's completely possible for the Wii of 2010 to be orders of magnitude better than the Wii of 2006, even if both are using the exact same hardware. Nintendo could find some optimizations here and there to speed up the Wii Shop Channel, or perhaps rebuild it from the ground up to be just as easy to use as the Nintendo Channel. The possible future addition of memory expansion could require more advanced memory management tools, making it easier to sift through several dozen game saves, Wii Channels, WiiWare games, Virtual Console games, and other saved data.
Going even further, Nintendo could totally overhaul the Wii Menu if it felt so inclined, perhaps turning it into a more fully-featured menu where some of the stock channels are built-in to the menu or more tightly integrated into the console. Perhaps other channels could be collapsed into each other, like the Virtual Console Channel idea that many would like to see become an option, wherein all of your VC games can be accessed via a single channel. In fact, the concept of channels could be dumped entirely for a better layout or a more appropriate one depending on how much functionality Nintendo adds on to the console in subsequent, future updates.
Who knows? Maybe Nintendo can unlock DVD player functionality for all with the proper firmware update, as long as the console is technically capable of doing it in the first place. That's the neat thing about console updates nowadays, because you never know what fresh ideas, performance enhancements, bug fixes, and other goodies will be delivered to your hardware every time you update. This is only possible in an Internet-connected age. Nintendo's new console hardware will come eventually, but as long as Nintendo keeps evolving and refining the built-in software residing on the actual Wii console (and it keeps producing games we want to play on it), it may be something we won't much mind waiting for.