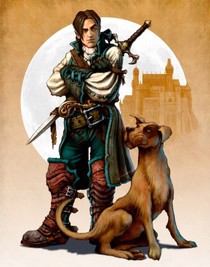 For the first part of the game, it was really good. The combat was simple yet awesome. The glowing breadcrumb trail was a great addition; I could freely wander around and get right back to questing whenever I wanted to. The quests were generally all fun and the marriage and real estate building aspects brought about a lot of hilarity. It felt weird having sex with my neighbor's wife, but I could tell by her girlish giggles that she loved it. Hands down, my favorite aspect of the game was the dog. While the dog is somewhere around 40 years old by the end of the main quest, he was a great asset in treasure hunting and fighting.
After I got all of my Sims-like cravings out of the way, I focused on the main quest. As I fought through the same generic villains over and over again, I became very bored by the combat system. I could still sit down and play the game for two hours at a clip, but the combat system just kind of dragged on over time.
Regardless, Fable II is a great game and many an hour can be spent in its fully realized world. Just don't expect the main quest to give you a great sense of completion. After all, the journey is more important than the destination, or at least it is in Fable II.