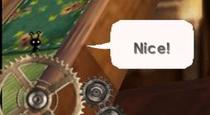 Take Deca Sports for example. Hudson knows that the game has a metacritic rating of 50, but that didn't stop them proudly pronouncing that they had shipped over 1 million units of the game. That's an unprecedented number of units for a company the size of Hudson, and while critics can talk, money probably talks louder. I talked with a Hudson rep who said he understood why the critics responded the way they did, but who still pointed out that Deca Sports was a game his friends played when they were over. I myself rated Deca Sports a 6 out of 10, but this generation has seen so many games that appeal to people despite their place in the traditional rating scale. Hudson's My Aquarium on WiiWare is another example: it has a metacritic rating of 47, but it's apparently sold quite well! I'm not quite sure what to make of these types of exceptions to the ratings rule. I have to admit: I liked Carnival Games myself.
I also like Marble Saga: Kororinpa. THANK GOD there's a sequel to that first wonderful Wii game. I told the Hudson reps there: games like Kororinpa are those overlooked gems that build up a devoted fanbase, but somehow don't get the sequels they so rightfully deserve. Now Kororinpa 2 (If you don't know how to pronounce that, just call it Marble Saga, that's what everyone at Hudson did) has tons more levels than the first one, balance board, multiplayer… oooh I can't wait to write-up my impressions on that. The thing I am worried about though is how Hudson will get out the word. Kororinpa deserves our help people! Get out the word! *ahem* As I said before… devoted fanbase.
In the end, I say "thank goodness" that Hudson as a company is simply not "giant videogame company # 3." Well, maybe they do resemble Nintendo a little in how they deliver a steady stream of games based around their top Bomberman franchise… but you know what I say to that? Bring 'em on.