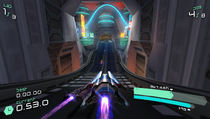 Since their inceptions, the Mario Kart and Wipeout series have both used weapons and items as a means to spice up gameplay. The games have completely different styles and features, but they are still racing games and share basic items and weapons. Mario Kart has green shells and Wipeout has rockets. There are red shells and then there are homing missiles. For Nintendo's smiling banana peels there are anti-hovercraft mines. Mushrooms and turbo boosts are one in the same. The variations between the two games picks up from there, but the core idea behind weaponry is that it gives slower players a chance to counter faster players, and add an additional layer of strategy against those of equal skill.
Mario Kart is notorious for making "random" item pickups based on your position in the field. If you have a big lead during a race and hit a question mark box, you know you're going to get a banana peel or green turtle shell. (Not much of a question, is it?) This is especially ridiculous toward the start of a race, since someone in seventh or eighth could still be a few kart-lengths away from the leader, get a high-powered item, work their way to the front, and then use it to check out from the field. Conversely, someone bringing up the rear that really needs some help to get back into the fight may instead be presented with a blue turtle shell. Not only does it not help the guy using it, it can screw up the results of the race up front. It doesn't make sense!
Wipeout's system of item distribution is much fairer for the entire field. Instead of giving gifts to the back-markers and penalizing trailblazers, as is the case in Mario Kart, running over a weapon pad in a Wipeout game will give you a random item no matter your position in the field. More powerful weapons and items have a smaller probability of being picked up, balancing out the fact that the leaders and the also-rans have the same chance to pick up the same items. In Mario Kart, getting the good stuff is common for the rear of the field—too common. While it always prevents the people up front from decimating the field with lucky item grabs, it's still an unfair and unbalanced system.
Granted, the random system in Wipeout means leaders can sometimes get lucky with items and get a lot of turbo boosts and mines and easily pull away from the field. Statistically, though, it's rare that will happen. That's the beauty of the design. Certain items are useless to the leading player in a Wipeout race, especially the more powerful ones. The quake disruptor can take out everyone in the field if it's used by the player in last place. If you're leading, there will be no one ahead of you to take advantage of it, rendering it useless. The same is true with forward-firing power weapons like the plasma bolt and homing missile. While the leader can still pick up useful items, the percentage of picking up a less useful or useless item increases simply because there would be no one ahead of them to shoot at.
Wipeout also has boost pads littered about track, which are often positioned next to weapon pads so that you can only use one or the other. By skipping the boost and going for the item, the leader is taking a small risk. You know the boost will help you pull away a little bit, but you don't know if the random item will. Do you risk the sure thing for a big payoff that may not be there? This helps make Wipeout's weapon system balance itself out, since people in the back are more likely to want to get an item to help close the gap with from those ahead, making it statistically favorable they'll get something useful more often than the leader. Leaders trying the same thing may find themselves slowly being reeled in by those who forgo some item pickups and opt to hit every boost pad in an attempt to race back to the front.
In Mario Kart, on the other hand, the predictable item distribution means that it's only a matter of time before you get clocked with a blue turtle shell while winning, often in the late stages of a race when you have no chance of getting back to the front. Getting banana peels and green turtle shells while leading is actually a good thing, since you can block incoming shell attacks and drop them in high-traffic areas. That would actually increase your chances of staying ahead, making it more unfair for those directly behind you. You'll get these convenient items with every item pickup, which you can get around the next bend. And the next one. And the three or four after that.
With the "random" MK item generator, it's possible that players in second or third place could have a much harder chance of catching up. Even with red turtle shells, the leader can just block them with his or her endless supply of discarded fruit. All they can realistically hope for (or rather, wait for) is the blue turtle shell to knock out first place. Mario Kart Wii online players who are good at the game will know this is the case. For me, I dread leading a close race because of the inevitable blue shell of death. Yet, if I fall behind early enough I know that that getting back to the front is only a matter of time. The only way to ensure victory in spite of a late-race BSoD is to be so far ahead that I'm not racing anyone. Either way, the game is much less fun to play.
What I'd like to see Nintendo try with the Mario Kart formula is to tweak the item distribution system so it's similar to that of Wipeout. In other words, make it purely random. I wouldn't mind the blue shell at all if 1) it had an equal chance of being picked up by anyone in any position at any time and 2) it was a relatively rare item.
If straight random system was in place, I could just as easily pick up the blue shell while leading the race. Then what good would it do me? Not only would I have a weapon that would blow me up if I dared used it, I couldn't pick up another item until I did. This would give those behind me ample opportunity to catch up to me using any old weapon or item they happened to come across. In the rare occurrence that someone behind me got the blue shell, it would be a case of being on the wrong end of someone's fortunate slot machine pull. I can live with that instead of having a guarantee that every other race someone will hit a jackpot that neither he nor I will ever get to collect on.
For Wipeout's system to be effective in Mario Kart, a few things would need to change. First, the item selection would do well to be simplified. Some of the new ones are awful, like the thunder cloud. Crap like that doesn't make for good racing. It should be the basics (bananas, shells, mushrooms, stars, lightning bolts) and maybe a few specialty items like the bloober or bob-omb. That's it. That's all we need for good, clean, and fair online racing.
The second thing that needs to happen is to make some item boxes on the track a little harder to get to. In Mario Kart Wii, item boxes are everywhere. Too many items are littering the track and making it too easy to get caught up in someone else's mess. On top of that, the leader is always going to have clear access to items, leaving those behind for item boxes that may not be there. If half of the item boxes around a track were placed in a position that made players need to choose between grabbing an item or cutting a corner, the decisions on how to close the gap between positions would be made by the players on the race track, not the game's ridiculous rubber band methodology.
Of course, I understand that Mario Kart is designed so that players of all ages can pick up the game and get into it right away. Wipeout is definitely geared toward the hardcore crowd. It's just really puzzling to me how Nintendo decided to incorporate online rankings, something designed to tell you who the best players are, into a game where the best player in a given race can easily not win it because of the unbalanced item distribution system. How do I know that someone with a high ranking hasn't won most of their races by getting a blue turtle shell gift from that guy in 11th place?
The Wipeout method of item use during races ensures that anyone can compete for the win if the items and weapons fall their way. As long as people are competent enough to navigate the tracks with a good bit of speed, three or four items and weapons in the right place will give them a chance to compete for the win. Mario Kart method, particularly in the Wii version, ensures that everyone will win eventually, screwing someone over in the process. Most times, those winners will be handed their prize on a (tarnished) silver platter. I don't know about you, but I'd rather have a hard-fought, well-deserved third- or fourth-place finish instead of a win gifted to me by someone half a lap behind me.
Playing the game online and seeing the items ruin a lot of my races, in one way or another, tells me that Nintendo thought adding leaderboards would be all that was needed to appease the hardcore crowd. Perhaps it did. But Nintendo did not, and was never going to, change what really matters to cater to the hardcore crowd. Most of my friends agree that the game has changed for the worse in a blatant attempt by Nintendo to make it more accessible to everyone. In and of itself, I have no problem with that. But if the Super Smash Bros. games can truly satisfy everyone from top to bottom, why not Mario Kart?