Yes, you can play as Iron Man and shoot down TIE Fighters.
The basic concept of the Toy Box in Disney Infinity is incredible. From the day it was first announced, Disney pitched it as a virtual toy box where you could play with a friend, doing everything from creating impromptu sports games to building a race track, all using Disney characters ranging from Toy Story's Woody and Buzz to Frozen's Anna and Elsa. The problem was that it was a challenge to build up any of these fun diversions. The Toy Box was complex and while a community soon popped up that made amazing worlds, those players were more the exception than the rule.
Fortunately, the third time's the charm as Disney Infinity 3.0's Toy Box is more of a game than ever before. When you boot up the new Toy Box, you're taken to a hub world with numerous different areas that feature challenges and missions based on different mechanics. Want to race? There's an area just for that. Want to fight enemies? Team up with a sidekick and go to town. It's easy to just jump into a world and get a taste of what you can make in the Toy Box in an intuitive, upfront manner. The tutorials are also more improved. Building your own worlds and adventures in Disney Infinity still takes a considerable amount of intricate work, but it's just a little bit gentler this time around.
On Wii U, the Toy Box in Disney Infinity 3.0 runs smoothly but features load times of up to a minute whenever you switch between anything. This happens regularly and is, to put it bluntly, horrendous. It gets to the point where you're discouraged from exploring Toy Box because loading is so prevalent and lengthy.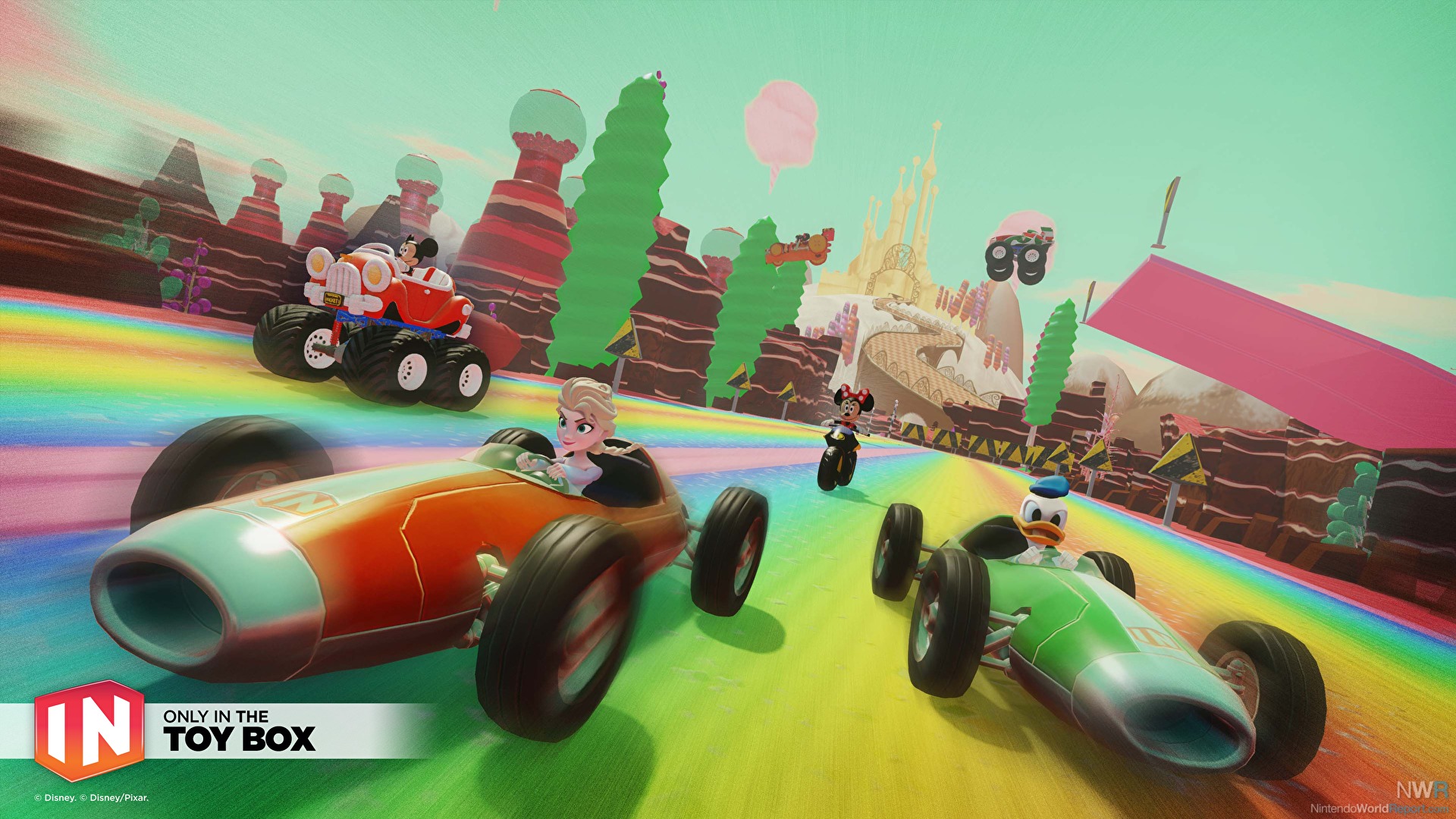 Combat is much improved in the Toy Box mode, as in addition to just plain smoother fighting, aerial combos are also added to the experience. The combat scenarios in Toy Box and the dungeon-crawling brawler Toy Box Takeover (sold separately) are wonderful, as the combat with Disney, Marvel, and Star Wars characters just feels good. Racing is also much improved, and to build off of that, a forthcoming (and sold separately) Toy Box addition will add a full-on kart racer to the game.
Disney Infinity 3.0's Toy Box is a huge leap forward for the series in terms of accessibility and fun. For the first time since the novelty of the original, I'm actually looking forward to going deeper into the world of creation and watch closer to see what others come up with. It's unfortunate that the Wii U version's load times are so poor, because when you can actually play the game, it is a whole lot of fun.