It's the Alien 3 you've always wanted.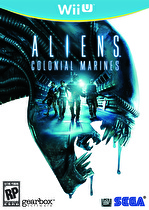 Aliens: Colonial Marines has been around for a long time. Back in 2001, a now-defunct Check Six Games began development on a PlayStation 2 game with the same title to be published by EA and Fox Interactive, which was subsequently cancelled. On December 11, 2006, Sega revealed its purchases of the electronic rights from 20th Century Fox to the "Aliens" franchise, and the game we know today was subsequently announced four days later.
Considered official series canon by 20th Century Fox, the game takes place around four months after the events in "Aliens." The plot is carried by Corporal Christopher Winter, a Colonial Marine who is part of a rescue team sent to investigate the disappearance of Ellen Ripley and the rest of the missing marines from "Aliens" who were dispatched to LV-426. Colonial Marines incorporates various settings from the films, including the U.S.S. Sulaco, the alien spacecraft from "Alien," LV-426, and several other locations currently unannounced.
To stand shoulder to shoulder with the films in the franchise, Gearbox has painstakingly incorporated an aesthetic and gameplay faithful (if not identical) to the source material. The game looks and sounds much like one of the films, from the constant dread of being in a cold and dark space to the ever-present sound of footsteps on wet steel.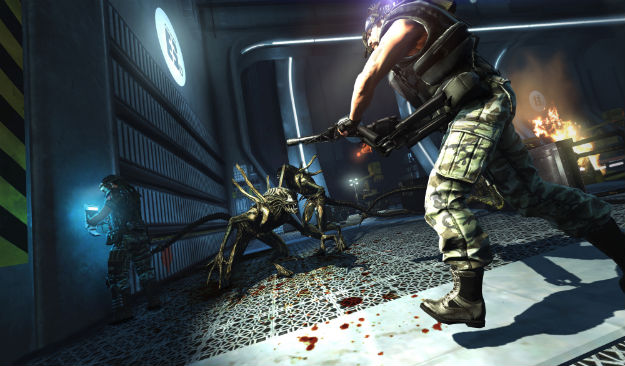 Adding to the isolation of the experience even further is the game's lack of traditional HUD—you're given only a beeping motion tracker to indicate alien movement. Essentially, Gearbox takes a cue from the Warren Spector handbook by making every single detail either from the source material or inspired directly by it (including the original James Horner soundtrack).
Throughout the single-player story, players encounter two main gameplay types: "Gauntlet Run," in which players fight enemies from point A to point B (which sound like more traditional levels), and "Last Stand" moments where players must defend a specific area by welding doors, fighting enemies, and setting up turrets. Because of the focus on story, I'm expecting that the game remains one cohesive narrative rather than devolving into a series of repetitive missions, but the gameplay footage hasn't led speculation toward one direction or the other. When killing enemies and completing objectives, players also earn experience points that allow them to customize their appearance, unlock skills, and upgrade weapons.
Gearbox takes some much-needed creative liberties in regard to Colonial Marines' enemy types. The main enemies seen in the game are xenomorphs from the first three films. From "Alien," expect to see the Drone, Facehugger, and Chestbursters; from "Aliens," the Warrior and trademark Queen show up; lastly, "Alien 3" gets a little love with the awesome Runner. Players won't be limited to fighting aliens, as the marines are forced to fight Weyland-Yutani commandos and mercenaries.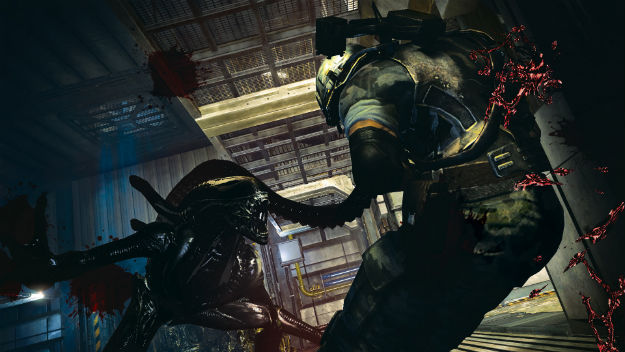 Most interestingly, Gearbox is creating new xenomorph types on its own. It's been secretive about it, but its E3 2011 showing offered details on the "Crusher" species, a large triceratops-looking alien that attempts to ram you with its impenetrable skull. Also of note is that the alien AI will use sneaking and group tactics to overwhelm the team of Marines.
As a shooter, the game utilizes equipment from the original movies. Expect to see the oh-so-memorable flamethrower, pulse rifles, sentry turrets, smartguns, pistols, RPGs, shotguns, and more. Outside of these and the aforementioned motion tracker, there is also a welding torch that allows players to participate in sealing doors from aliens, though there is no word on whether this can be used on most doors or only several specific ones.
The new Aliens game also has significant multiplayer focus. Cooperatively, four players can participate in a drop-in/drop-out online experience, or two can do the same with local split-screen (no word on whether the Wii U GamePad will be able to eliminate that problem).
On the competitive side, only two modes have been revealed: Escape, a four-on-four mode where marines must reach an evac point while the xenomorph team tries to stop them, and a six-on-six aliens vs. Marines team deathmatch. While Marines control the same in both multiplayer and single-player, the alien classes are third-person affairs where they fight using their expected leaping and swiping abilities to take out opponents.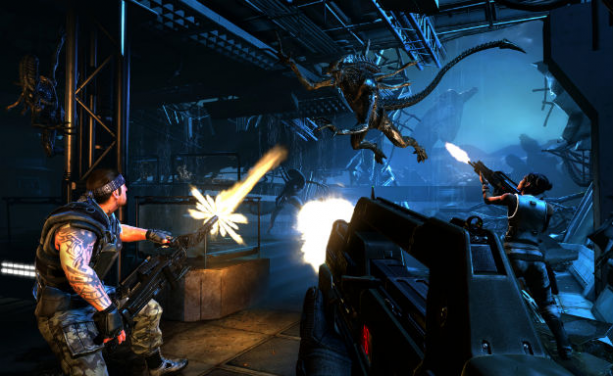 In the Colonial Marines developer interview, it was revealed that the GamePad would be a heavy part of the experience. Some applications seen include motion tracking, scanning, using a database, using the map, and participating in wire puzzles.
"This is really cool when you're first playing the game because you're kind of focused, you're immersed in your virtual reality world and suddenly you hear [scanner noises]. It's coming from down there, and you can see a blip," said Gearbox CEO Randy Pitchford. "This is just scratching the surface."
Aliens: Colonial Marines releases February 12 on other systems, though the Wii U version hasn't been given a solid date yet.