Add some pop to your pics.
What does Sparkle Snapshots 3D offer? Let's start with what we know. The eShop title turns your 3DS into a portable photo booth, complete with any tool you could need to liven up and add fun to pictures taken in Sparkle Snapshots, as well as to photos saved on your system.
Despite its name, the pictures taken or used in Sparkle Snapshots 3D are not displayed in 3D. Instead, users have the option to operate on three layers. By placing decorations in front of or behind the subject of the photo, as well as on the same layer as the photo, users can create a layered 3D effect.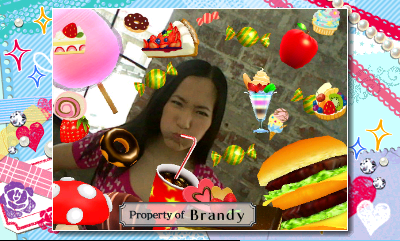 Due to its vast selection of ribbons, borders, sparkles, and stickers, Sparkle Snapshots 3D may seem like an application catering to children. However, the software also offers plenty of tools for those who wish to edit photos taken with the system. Aside from large amounts of decoration, which players can supplement with add-on DLC, you can add makeup, edit eye and hair color, adjust the camera lens style, add light and color correction, and more.
Sparkle Snapshots 3D also offers a means to share your creations. The game enables users to share modified photos with other owners of the software locally via Wi-Fi, save photos to the system's SD card for transfer to a computer, and upload creations to Nintendo's 3D Photo Showcase website for the world to see.
Sparkle Snapshots 3D looks to offer an option-packed toolset for people who want to have fun with their 3DS photos. Stay tuned for our review of the upcoming eShop title.