by Donald Theriault - 8:00 am EDT
Total comments: 1 Source: Nintendo
In the duel between Marvel and DC, your humble News Editor roots for the meteor.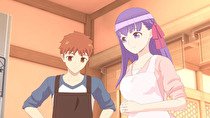 This is actually the middle of a very busy period for Nintendo first party releases - this week is the fourth of five in a row in which they have a major release (with the Age of Calamity expansion pass counting for some definition of "major"), and they end up with six out of seven with Mario Golf at the end of June. This week's release is DC Super Hero Girls, based on the short lived comic cartoon.
Read more...