by Donald Theriault - 8:00 am EST
Discuss in talkback! Source: Nintendo
Puhuhuhu~!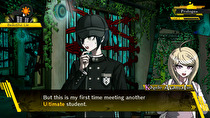 Well, it's now the week of hope (or despair, depending on your choices) as the Danganronpa Decadence collection is split up for individual release on the eShop this Friday. All four of them. There is a preorder discount for all four of them... and we'll have more on why this is important shortly.... Read more...