by Donald Theriault - 8:00 am EDT
Discuss in talkback! Source: Nintendo
Unlike the New York Times, we've acknowledged the video game remake since 1993.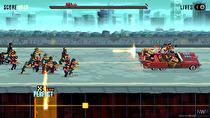 This weekend will feature a mild party on my part, but I'll spend another part of it diving back into the world of the Tokyo police with the never-before-localized Unlimited fancard for Collar x Malice. Other titles I've looked into this week include the retro shooter Double Kick Heroes and Gungho's new strategy title Volta-X.
Read more...