by Donald Theriault - 8:00 am EDT
Total comments: 1 Source: Nintendo
Trust the Proc... sorry, can't say that with a straight face.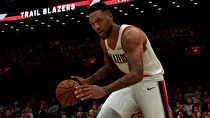 If only in terms of file size, this week's unquestionably biggest release is the annual NBA release. And with the circumstances of this NBA season being what they are, I have to ask if they managed to cut the file size down by having a single arena that changes its appearance depending on the teams in the game. Still, it's cool having my choice of games with the Raptors as the champs.
Read more...