by Donald Theriault - 6:00 am PDT
Total comments: 1 Source: Nintendo
Her career took off in the last few years, but she has returned for the epilogue.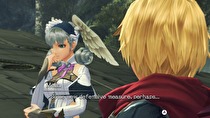 The entire voice cast of Xenoblade Chronicles is returning for this week's Definitive Edition, including one actress who became a major star in the following years.
Jenna Coleman, who provided the voice of Princess Meila in the Nintendo of Europe-helmed dub of the original Xenoblade Chronicles, has been confirmed by the game's credits to be returning for the Definitive Edition; this includes new lines for the Future Connected epilogue.
Read more...