by Matthew Zawodniak - 11:39 pm EDT
Discuss in talkback!
Let's get making!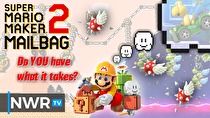 To celebrate the release of Super Mario Maker 2, Nintendo World Report will be hosting the first edition of Maker Mailbag: a new series where we play YOUR levels and select winners in a number of categories. Your levels will be played by our panel of judges—some of whom will be on stream at Nintendo World Report's Twitch channel—and four winners will be able to choose one item from our list of prizes!
Read more...