by Neal Ronaghan - 12:43 pm EDT
Total comments: 1 Source: EUIPO, Resetera
Square Enix appears to be bringing over some sort of Secret of Mana collection to the West.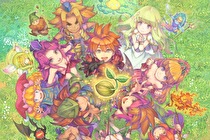 Square Enix is applying for the trademark for the game name Collection of Mana according to a recent filing with the EUIPO (European Union Intellectual Property Office).
It is unknown exactly what this collection could be, but back in 2017, Square Enix released the Seiken Densetsu Collection for... Read more...