by Donald Theriault - 7:16 pm PDT
Discuss in talkback! Source: Image & Form
We say "tentative" because right now it's all 2019.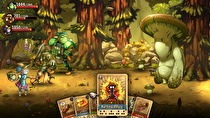 SteamWorld Quest has its price, and it was showing a date for a bit as well.
The first RPG from Image & Form will launch for US$24.99/C$31.49/€24.99/£22.49, according to the developer's Twitter feed and the game's eShop listing.
SteamWorld Quest will... Read more...