by Donald Theriault - 4:54 pm EDT
Total comments: 1 Source: Nintendo
They will occur on E3 Day -2.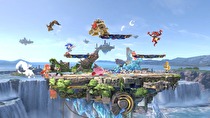 Nintendo held the US finals for their Smash and Splatoon 2 tournaments today, and the champions will be advancing to pre-E3 weekend.
The 2019 World Championships for Splatoon 2 and Super Smash Bros Ultimate will be held in Los Angeles on June 8. The US champions will face teams from Europe, Australia and Japan in 4v4 Splatoon 2 and 3v3 Squad Strike play for Super Smash Bros Ultimate.
Read more...