by Donald Theriault - 5:00 am EST
Total comments: 2 Source: Nintendo
Pizza delivery for... I. C. Weiner?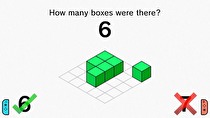 "One game? That's all we got? One goddamn game?"
"You can't say goddamn in the Downloads column!!"
"Who cares, nobody's reading it anyway."
- Harry Doyle and Monty, Major League (1989)
For this last downloads of 2019, or the first one of 2020, we have apparently traveled back in time... Read more...