by Donald Theriault - 12:01 pm EDT
Total comments: 1 Source: Nintendo
Apparently bustin' doesn't make Nintendo feel good.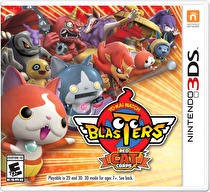 The Yo-Kai Watch Busters side series is finally coming west.
Nintendo have announced that the 2015 3DS action titles will be released in both North America and Europe on September 7. The series has been renamed Yo-Kai Watch Blasters, and the two versions will be the Red Cat Corps and the White Dog Squad versions.
Read more...