by Donald Theriault - 6:00 am EST
Discuss in talkback! Source: Team17
See Tommy, this is what we need.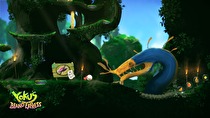 Some more details have emerged about the latest title from Team 17.
A new trailer (found below) for Yoku's Island Express has announced even more new powers for the postal pinball title. Among the included abilities are a party horn for mail calls, a vacuum for dealing with slugs, and the submarining Dive Fish.
Read more...