by John Rairdin - 8:45 pm EST
Total comments: 9 Source: Nintendo
It has to better than last time... right?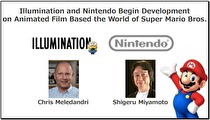 To wrap up their financial briefing this morning in Japan, Nintendo officially confirmed their long rumored partnership with Illumination to produce an animated Super Mario Brothers movie. No details or proposed release window were given, merely a confirmation of the project's existence. It has however been confirmed that Shigeru Miyamoto will be co-producing the film, alongside Illumination CEO Chris Meledandri.
Read more...