by Donald Theriault - 6:09 am EST
Discuss in talkback! Source: Nintendo
Unlike Christmas Day, this won't bring down the eShop. But it probably should.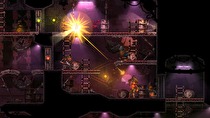 There's a reason I don't lock in my formal Game of the Year list until sometime in February, and it's this: There's still potential candidates in some of the categories coming out this week. The big two for the week are the last major 3DS release of the year (which has topped the list of at least one friend of the website) Style Savvy: Styling Star, and the defending champion for "Best Re: Game", SteamWorld Heist. Both are well worth the time.
Read more...