by Donald Theriault - 7:20 pm EDT
Discuss in talkback! Source: Nintendo (PDF link)
Mario is collecting a lot of coins.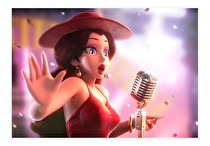 Following the release of the first half financial reports this morning (NA time), Nintendo held a briefing for institutional investors that provided some up to date information.
Both Super Mario Odyssey for Switch and the SNES Classic Mini have achieved sell-through of over 2 million units. The... Read more...