by Donald Theriault - 6:07 am EDT
Total comments: 20 Source: Nintendo
Once again, we have a game with a Nintendo World Report connection.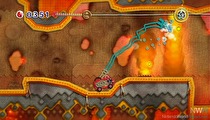 The eShop in North America has a couple of interesting items this week, mostly due to the involvement of prominent musicians. Gotta Protectors on the 3DS is directed and scored by Yuzo Koshiro (7th Dragon, Etrian Odyssey) for those that want some retro tower defense. BLOC is a 4 player Pong-like where... Read more...