by Donald Theriault - 7:01 am EDT
Total comments: 11 Source: Squid Research
Anyone who took part in the last Splatfest probably saw this coming.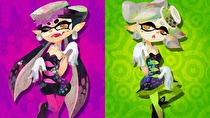 After over a year of off-and-on competition, Splatoon's Splatfests will end with the most obvious question of all.
The contests will come to an end beginning on July 22 at 2 am Pacific / 5 am Eastern time, with a two day duel concerning the subject of Callie vs Marie. To drum up support for the... Read more...