by Adam Abou-Nasr - 12:50 pm EDT
Total comments: 12 Source: Nintendo
So fresh.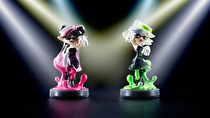 Callie and Marie amiibo, along with recolors of the Inkling trio, will launch July 8, Nintendo said on Twitter.
The squid sisters will unlock new musical performances and will feature "tasty textures," "delicious detail," and "savory sparkles." It is unknown if the new Inkling trio unlocks anything different than the original.
Read more...