by Donald Theriault - 1:09 pm EST
Total comments: 12
Inexpensive Tetris, Rayman and more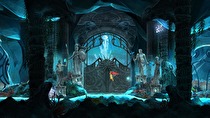 Ubisoft isn't waiting until Thursday to get some deals on the North American eShop, as a new sale is on today through March 13.
Deals of "up to 75% off" are promised for some of Ubi's back catalogue. The games are:
Wii U
Just Dance: Disney Party 2 ($27.99 from $39.99) Just Dance 2015 ($15.00...
Read more...