by Donald Theriault - 7:37 am EDT
Total comments: 3 Source: Nintendo Investor Briefing
You'll be surrounded by Hardy Greninja.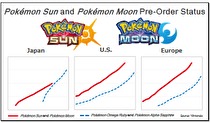 The biggest holiday title for Nintendo has a ton of early momentum.
Pokemon Sun and Moon's special demo, which released on October 18, has been downloaded over 3.5 million times in just over a week according to Nintendo's investor briefing. The download count has made it the fastest start of any 3DS demo since the system launched.
Read more...