by Donald Theriault - 8:02 pm EST
Total comments: 4 Source: NicoNico
An early February release for the last Smash Bros characters.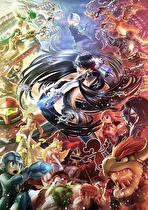 Corrin and Bayonetta will arrive for Smash Bros on Wii U and 3DS next week.
Producer Masahiro Sakurai appeared at the end of a demonstration of the characters that aired on the NicoNico service in Japan to confirm a February 4 release for Japan. @NintendoAmerica later Tweeted an "afternoon release" on February 3 for North America.
Read more...