by Donald Theriault - 5:00 pm EDT
Total comments: 3 Source: Nintendo
Plus a brief maintenance before it goes live.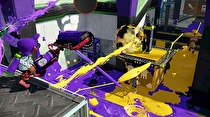 Splatoon's next update will patch a couple of holes and provide some fixes to edge cases.
The update will launch tomorrow night at the traditional time, and the key feature will be fixes to Arowana Mall and Camp Triggerfish to resolve movement glitches. The camera action when lifting Rollers will... Read more...