by Donald Theriault - 5:52 pm EDT
Total comments: 25 Source: IGN, Playtonic Games
Featuring a bat and a chameleon in desperate need of pants.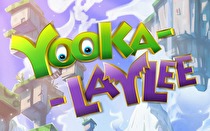 The game previously known as Project Ukulele now has a title, protagonists and a price for its Kickstarter backers.
Yooka-Laylee, the project announced a few months ago by the ex-Rare staff at Playtonic Games, is a 3D platformer starring Yooka the chameleon and Laylee the bat. Yooka can use his tongue as a grappling hook, while Laylee can fire sonic blasts and fly short distances.
Read more...