by Clay Johnson - 9:41 pm EDT
Total comments: 4 Source: Gematsu, Pokemon Art Academy Official Site
Gotta draw 'em all starting June 19.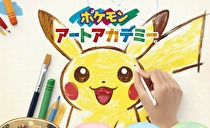 Pokémon Art Academy has been announced for release in Japan. It will be available for 3DS both at retail and via eShop on June 19.
The game is the first iteration of the Art Academy series to focus its teachings on portraits of popular Nintendo characters. It will feature over 40 lessons, ranging... Read more...