by Aaron R. Brown - 9:59 pm EDT
Total comments: 9 Source: Capcom Unity
There can be only one.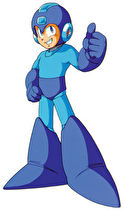 A poll is being held for users to vote for which Mega Man game they want to be released first on the North American 3DS Virtual Console during Mega May.
The choices consist of:
Mega Man II Mega Man III Mega Man IV Mega Man V Mega Man Xtreme Mega Man Xtreme 2
Voting ends April 14 at 10 A.M. PT. The winning title will release on May 1, 2014, with the remaining games releasing each Thursday thereafter.
Read more...